iPod Journal for August 2006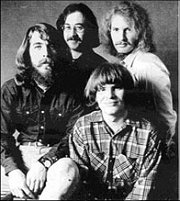 A few years ago I started making mix CDs of songs I was listening to a lot during a particular month. It was an idea I stole from Cameron Crowe, who kept monthly mix tapes as a sort of musical journal. I like it because music is my best memory jogger, and I can listen to a disc I made in Sept. 2003 and remember exactly what I was doing that month.

Here is my iPod journal for August 2006

1. Creedence Clearwater Revival, "Someday Never Comes"
2. The Snowbirds, "Grips"
3. The Mountain Goats, "In Corolla"
4. The Raconteurs, "Together"
5. Pete Yorn, "For Us"
6. Billy Joel, "Only the Good Die Young"
7. Peter Gabriel, "Digging in the Dirt"
8. Howlin Wolf, "Littly Baby"
9. Muse, "Take a Bow"
10. The Sadies, "Lonely Guy"
11. Hellogoodbye, "Here (In Your Arms)"
12. Film School, "Deep Lake"
13. M. Ward, "Chinese Translation"
14. Sting, "If I Ever Lose My Faith"
15. The Dandy Warhols, "Faithless"
16. Todd Snider, "You Got Away With It"
17. Living Colour, "Desperate People"
18. The Bangles, "Eternal Flame"
19. Rick Springfield, "Love is Alright Tonite"
20. Neko Case and The Sadies, "Hold On, Hold On"
21. Cracker, "Take Me Down to the Infirmary"
22. Michael Jackson, "The Way You Make Me Feel"
23. Bob Dylan, "Someday Baby"
24. Kris Kristofferson, "The Pilgrim: Chapter 33"
25. Queen, "Sweet Lady"
26. Elliott Smith, "Kiwi Maddog 20/20"
27. Mew, "The Zookeeper's Boy"
28. The Championship, "Liar, Liar"
29. The Secret Machines, "The Road Leads Where Its Led"
30. John Prine, "Sam Stone"
31. Radiohead, "Packt Like Sardines in a Crushed Can"
32. The Faces, "Had Me a Real Good Time"
33. Apollo 100, "Joy"