Records 1/29/07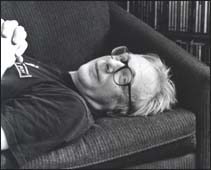 So, here's how I plan to use this blog from here on out...

Basically, I want this to be an open notebook where I practice, hone, and explore my writing about pop culture. This is what I do for a living—I can't believe it, either—and I want to get better at it. I don't expect my writing on the blog to be great, and I'm not just saying that as a pre-emptive strike against any haters out there. (But I'm mostly saying it for that.) My recent off-the-cuff "tangents" about the Grateful Dead and Band Of Horses already are slightly embarrassing, and I don't expect the slight part to stick around much longer. My hope is that if I spin enough shit out of my brain there is bound to be a few edible morsels in there for future consumption. (If that's not the most disgusting metaphor I have ever come up with, doing this blog will never make a better writer.) At any rate, the crappiness of the writing will keep readers away, which will only make me feel comfortable trying new ideas on for size.

Every week or so, I pledge to write about some (maybe five to seven) albums I'm listening to at the moment. My model is Robert Christgau, whose Consumer Guide column is the epitome of shortform, pithy writing about music. I digress from Christgau where grades are concerned; I'm notorious about changing my mind, and a grade just seems so formal—mere statements of opinion, on the other hand, read like diary entries, and it's assumed that perspective changes over time. (I also realize that it's passé nowadays to write about albums, but if you know me, you know I'm passé.) Mainly I'm doing this as an exercise, to get better at analyzing music and expressing my thoughts on them. Otherwise I end up saying everything either is awesome or sucks.


Allen Toussaint, The Allen Toussaint Collection
I bought this 16-song "greatest hits" collection in preparation for an Onion interview with the legendary New Orleans-based writer-producer-musician. My favorite song so far is "Southern Nights"—yes, it's the same "Southern Nights" country singer Glenn Campbell turned into a crossover hit in 1977. Toussaint's version doesn't have the jaunty gallop of Campbell's better-known cover, sticking instead with a slow, swampy groove and psychedelicized vocal. Toussaint told me later that "Southern Nights" is the best song he has ever written. He also talked about how he decided to become a pianist at age 6 and a half after liking a Professor Longhair song on the radio, and about how he doesn't mind singing but if Elvis Costello is in the building he will gladly hand over the microphone. Every now and then I could hear him play a little riff on the piano while he talked from his New York City apartment, where Toussaint has mostly lived since losing his house and studio in Hurricane Katrina. (The house is still being rebuilt almost 17 months later.) Toussaint was talking to me because he needed to promote his first solo concert tour after more than 50 years in the business. He was charming and a natural conversationalist, but standing in the spotlight does not come naturally to him. I asked whether the joyously gritty songs he wrote for Lee Dorsey (including "Working In A Goldmine" and "Yes We Can Can") allowed him to explore the nether regions of his otherwise humble, dignified personality. I guess I hit on something, because he asked me if I was a musician. (This is the nicest thing an interview subject ever said to me.) After about 40 minutes, we were done and said our goodbyes. Allen said it was a very interesting conversation, though I'm sure he says that to all the reporters. I checked my tape after we hung up and all I could hear was me breathing. Because the phone recorder jack wasn't hooked up properly, my interview with Allen Toussiant only existed in my imagination. He really did ask me if I was a musician, though. Honest.

Rob Crow, Living Well
Rob Crow is from Pinback, whom I have never heard. Living Well is Crow's third solo album, but I get the impression it's not all that different from his band. This record does what it does very well, and it does it repeatedly and without much variation. What "it" is I can't say, but I doubt it started here. (If you want a generic description, I'd say adult contemporary indie rock with a Pixies fetish.) I have tried listening to Living Well twice, and it slipped past me both times. This is what you hear on public radio as transitional music between segments. You hear it but you can't listen to it.


Ray LaMontagne, Till The Sun Turns Black
Like most American TV viewers, I heard about Ray LaMontagne from Taylor Hicks, who performed "Trouble" off LaMontagne's first record during his victorious season of American Idol. For a long time after I bought a used copy of his 2006 sophomore effort Till The Sun Turns Black I couldn't figure out if LaMontagne was worth following or merely John Mayer with facial hair, but this album is seeping under my skin. Ethan Johns produced it and played most of the instruments, which is a good sign—he's the rich man's Rick Rubin. The string parts are really breathtaking, darting in and out of LaMontagne's bare-boned guitar-and-voice arrangements. This guy plays it cool and dreamy, but he can't keep his melancholy contained. If you liked Sea Change but wished the singer sounded less like Gordon Lightfoot, you will love this—LaMontagne's whispery lullabies are enough to soothe even the over-singing, bad-dancing, gray-haired beast.

Time Life Series, 1957: Still Rockin'
Early rock 'n' roll is like children's music—you know it down to your bones, and yet you hardly think of it as music. It simply has always been there--how often do you ponder where trees come from? This compilation of hits from 1957 (one of two recent Time Life 1957 comps I picked up) is reminder that rock was never more raw, weird, stupid, or dangerous than it was early on. The heavy hitters, of course, are wonderful, and the greatness of their music is more apparent away from "good times, great oldies" radio: "That'll Be The Day," "Blue Monday," "Lucille," "Rock & Roll Music," all unbeatable after so many listens. But I'm drawn to lesser-knowns, the one-hit wonders, the nobodies, who make music just as great—Paul Anka's proto-Springsteen rocker "Diana," Joe Bennett and the Sparkletones' delightfully dumb "Black Slacks," and perhaps best of all, Bill Justis' filthy instrumental "Raunchy," which already has a place in rock history for being George Harrison's audition song for The Beatles.

Cracker, Cracker
Cracker is one of the early '90s alt-rock bands that got played on MTV after Nirvana hit. I loved their first record, which I bought in '92 after hearing the big single "Teen Angst" on either Alternative Nation or 120 Minutes. I loved Cracker's second album, Kerosene Hat, even more, but soon after I learned it wasn't cool to like post-grunge bands and I stopped. Years later, my friend Rebecca taught me that liking Counting Crows is nothing to be ashamed of, and I revived my interest in Cracker not long after. Cracker is a really fine country-rock record, with plenty of era-specific sarcasm and all-era Stonesy riffs. I played the album's best track "I See The Light" for Rebecca last night. She said it sounded like a Chevy commercial. I'm going to ignore her this time.