Cheney's got a gun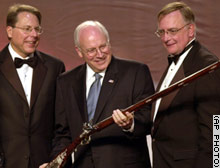 The vice-prez "accidentally" shot somebody this weekend.

A 78-year-old hunting companion of Vice President Dick Cheney was recovering in stable condition Monday after Cheney accidentally shot him during a weekend quail hunting trip, a hospital official said.

Harry Whittington spent "a great night. He slept throughout the night," said Yvonne Wheeler, spokeswoman at Christus Spohn Hospital Memorial.

"A great night"? Was that before or after he was sent to the hospital with a gunshot wound?

At least we finally know who has WMD.